This post is about how to cost-effectively transfer money from Malaysia to Singapore without paying ridiculously high and often hidden agent's transfer fees. And save 60RM/20SGD in the process.
UPDATE February 2020:
In November 2019 TransferWise was approved by Bank Negara – that means now you can use their fantastic service not only to send money TO Malaysia but also FROM – which wasn't the case when I wrote this article in June 2019.

Which makes the local alternative MoneyMatch I described as the only option somewhat obsolete – sorry MoneyMatch and thanks god – can't say I will miss your dysfunctional web UI/UX!

But let's start from the beginning and give some context first.

If you want to skip all the reading and just know the easiest and cheapest way to send money from Malaysia to Singapore or the other way around – the short answer is TransferWise. If you sign up using my link, you will get 90SGD/270MYR OFF on transaction fees. Here you are and you're welcome 😉
Sending Money Online.
About two months ago, I finally decided to be a more money-conscious human being. And as a first step, I thought I'd give it a try to StashAway which is an automated investment robo-advisor for people who'd like to start leveraging their money but have no clue about investing or don't know where to start. Sounds like me.

But this post is not about StashAway per se (I will share my experience with them in another post) – it's about sending money online and how banks tend to quietly rip you off.
Long story short, by circumstances, I had to sign up for StashAway Singapore, even though my current bank account is in Malaysia (Maybank). Which means that in order to deposit funds to my StashAway account, I have to make an overseas transaction.
So let's get this thing going – shouldn't be much of a problem, right?

So I did what most of the people would do, logged in into my online banking (in my case Maybank2u), went into a Transfer tab and selected Overseas payment option. Well, and reached the first obstacle right there…
Foreign Telegraphic Service Limitations.
This might differ with other banks, but in case of the Maybank, you can make a Foreign Telegraphic Transfer only during the strictly limited time window of 10 am-6 pm, weekdays only.

I mean, really? I don't know much about banking systems, but by sheer common sense, it seems quite funny to me that in the 21st century, in the age of automation and digital technology, you actually have to wait and fit someone's working hours so that he/she can manually queue, authorise and wire your transfer.

Security reasons? Fair enough. Then I'd expect 24/7 customer support to handle this. You trust banks with your money so they can use them for further investments. I'd expect at least some support in exchange.

Asking people to fit the bank's schedule anytime they want to make a transfer is just not OK.

Besides, for many people out there, the time frame 10 am-6 pm is their office hours.

Or in my case, when I was dealing with this limitation, I went through a two-month intense full-stack coding boot camp with NextAcademy. Believe me – having my brain toasted whole day trying to grasp complex concepts, thinking about when should I do make an online transfer was the very last thing I wanted to clutter my mental space with.
When Service Fee is too good to be true.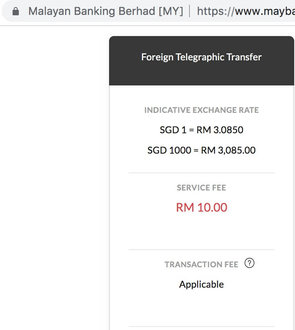 Alright, so we accept that in order to make a telegraphic transfer, we can do so only during opening hours. We go and fill the lengthy form (which is in case of Maybank also buggy – story for another time).

Before hitting that final confirmation button, we are presented with a current exchange rate and the service fee.


In my case, I'm about to send the amount in ringgit that equals to 1000SGD and the screen states that service fee is RM10 (2.40USD).

Fantastic. That's totally bearable. And since the page doesn't state any other numbers, silly my assume there's nothing else bank considers important to inform me about and so I ignore the vague section on the bottom reading Transaction Fee – Applicable.

I'm smashing that "Transfer" button and with a faint feeling of accomplishment, I go on with my daily errands, thinking of my first step towards a brighter future.
Well Hidden Telegraphic Transfer Fees (aka Agent Fees).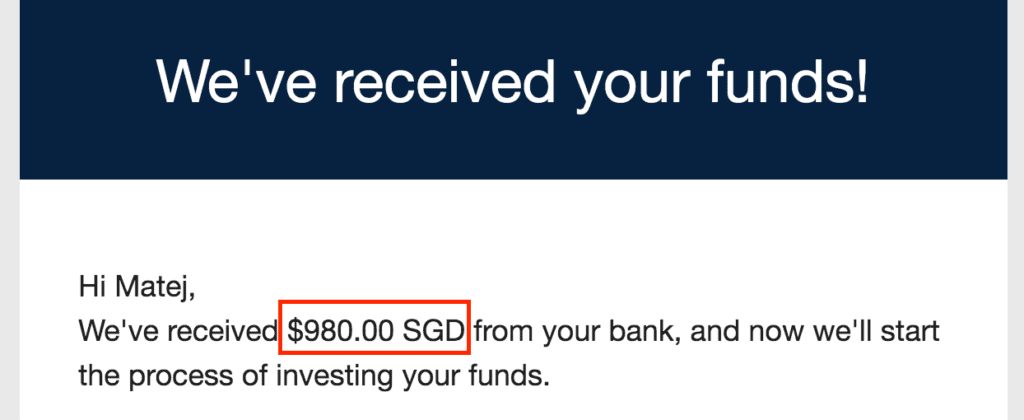 Two days later I receive an email from StashAway informing me that they received my 980SGD deposit.
Wait, what? I'm pretty sure I sent 1000SGD. Quick check, yep, I did. I instantly message them, asking if the missing 20SGD is some kind of handling fee they keep from each deposit.

They assured me there's nothing like that and the funds they received is what I sent them from my bank.

I'm making a call to Maybank customer support. After never-ending automated voice navigation, I finally manage to speak with the actual customer support officer.

I explain my situation and question about whereabouts of the missing 20SGD from my transaction and what was that advertised 10RM for a Service Fee I got already charged for.
The answer I get from a tad agitated lady on the phone who doesn't like to be questioned was that it's not an issue on their end, that funds must have been withheld by the recipient's bank and that this is a standard procedure I should be well aware of.
When 'Service Fees' don't mean 'Transfer Fees'.
Alright, I go back to contacting StashAway and parrot back what Maybank customer officer told me.
After a short investigation, they got back to me with the finding of whereabouts of those missing 20SGD. It ended up in the pocket of…Maybank Singapore.

So basically, the route my funds were taken to was:
Maybank Malaysia – that keeps 10RM Service Fee
Maybank Singapore – that without any warning grabs 20SGD
my recipient's bank – receives what is left out of it.
Let's ignore for a moment the fact that 20SGD as a transaction fee is pretty high for itself. What I find especially upsetting is the fact that literally nowhere along the process of sending the money was I informed about the actual cost of the transaction – except for the Service Fee of 10RM.

In my case, transfer was for personal reasons. But just imagine that the funds you are sending are in a more professional environment – paying for a service, employee, anything – and the bank, without even giving you the choice of bearing all costs, pass to your recipient less money than you promised.

And that's just not acceptable.
Your answer has two words – TransferWise.
Some of you might have heard of TransferWise that deals exactly with ripping off practices of banking systems like the one I just described above. I'm their loyal user and couldn't recommend them more to anyone dealing with overseas payments.

So if you are looking for how to send money from Malaysia to Singapore – or anywhere else for that matter – look no more, because these guys are shaking up with all rip off practices of banks around the world.

I've been using actively TransferWise for all my international payments for over a year and I couldn't stress more how much money they saved me on poor conversion rates and transfer fees.

We are not talking about a few cents difference but 3x less on fees while using TransferWise and having a very clear break down what fees are you paying for. Unlike what banks do.
However, the problem is if your bank is located in Malaysia. Then using TransferWise you can send funds IN, but not OUT. Which, unfortunately, puts them out of question for my situation.
By the way – sign up for TransferWise using my special link and you'll get 90SGD/270MYR OFF on their fees. You're welcome 🙂
How To Start Using TransferWise?
Since TransferWise is a legitimate financial service authorized by government monetary institutions, there are few verifications steps before you are fully able to make the first transfer.

So after you sign up using my discount link, you will have to upload a copy of your government-issued ID, passport and if you are a foreigner, you might need to upload a copy of the page from with visas in your passport in order to be able to receive MYR.


MoneyMatch – local alternative for Paying Online for a Fair Fee.
Before TransferWise was authorized in Malaysia, MoneyMoney was the only option how to go around terrible bank fees when it comes to international transactions. MoneyMatch is practically a copy-cat of TransferWise and does exactly what they do, except catering to the South East Asian market only.

I gave it a try and to be completely honest, I was quite a bit sceptical from the beginning since their website is not as sturdy, user-friendly and bug-free as the one they try to imitate.

There were a few hiccups at first, like for example when signing up, their form clearly didn't accept certain special characters (which in fact are not that special) so my password wasn't accepted and the site instead kept refreshing instead so I had to repeat the whole process over and over again until I rather opted-in to sign-up with my Google Account.
So how does it work?
I love the beautiful simplicity of the product. Basically, what happens to your money when you send them via traditional telegraphic service is that they are crossing borders and in order to do that, there are a lot of middlemen authorizing, verifying and converting your payment from one currency into another one.

However, what TransferWise and now MoneyMatch do is that your money, in fact, doesn't ever cross the border in a traditional sense.

They have a bank account in multiple countries. So when you make a transfer, you are sending money into their account that is in your country and your recipient receives money from their bank account that is in his.

Less middlemen, less fees. Simple and brilliant.
Verification Process.
There were a few extra steps during the verification process than is typical. Besides a copy of ID/Passport, as a foreigner, I was also asked for a photo of the latest Visa stamp in my document.

The last step was a bit awkward requirement to record a selfie video of yourself from both front and side angle and submit it via the app.

Needed to say that although both the web and the smartphone app are quite clunky, their email customer support was surprisingly fast, helpful and super polite.

Whole verification process took about a week after submitting all documents.
Sending first payment.
After my account got verified, the moment came to test the actual fund transfer via MoneyMatch. In the next five steps in my Dashboard, I set the amount I want to send, in what currency and to where.

The UI/UX here is very easy to read and unlike in case of the standard banking system, it shows all and final numbers relevant to given transfer.

You can see the current exchange rate and what's the value of the money you send in the recipient's currency.

MoneyMatch transfer fee is fixed 8RM (2USD), which is even less than what Maybank charged as a "Service Fee".

What I appreciate the most is that what is presented in the form as the final sum recipient gets REALLY IS what recipient eventually receives. So unlike standard telegraphic transfer, no more hidden fees and surprises and other bulls**t. And for me, that's a major dealbreaker!

Note: Fee of 8RM will be added on top of that.
Next, you have to fill all input fields with bank details of your recipient and adding bank you want to send money from.

The important note is the name associated with your bank account must be the same name you used for registration and through the verification process with MoneyMatch.
Once I submitted all details, the processing time was about 2 business days until my StashAway account received the exact amount I sent.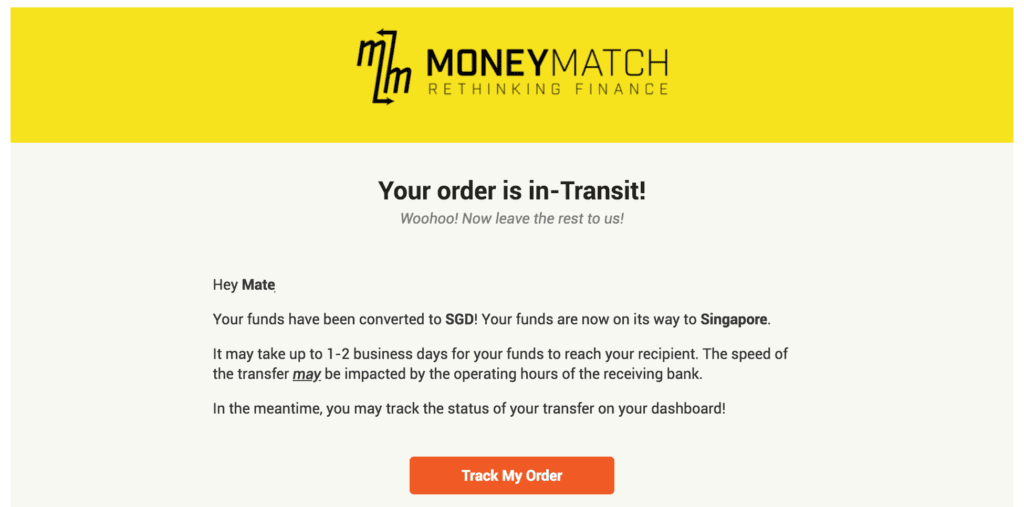 To sum it up.
I'm far from saying that banks should be completely for free. They do provide valuable service to their customers, makes monetary transactions easy for a regular person and definitely have their own deal of expenses in order to run the servers, pay employees and provide security for people's money.

At the same time, decades of people's dependency on the banking system in terms of handling their money led to a lack of transparency and ridiculous fee structures.

It's only a matter of time when more and more people realize there are other and smarter ways to send money. Which in turn will force banks to adapt and make their system more fair.
By the way: Use my special code REF_MYMTE on checkout and get 30RM OFF your first international transfer with MoneyMatch!
Disclaimer: I'm not paid, sponsored or compensated in any way for the content of the following article. These are purely my observations coming from personal experience. However, some links used on the website are affiliate links, which means that if you sign up or use service I recommend, I'll get a little commission – to no expense for you! More often, you might get some benefits yourself in the form of special discounts. Needed to say that if I ever go to the extent of recommending something, it's always only what I use myself, I would recommend to my friends and what I truly believe in.